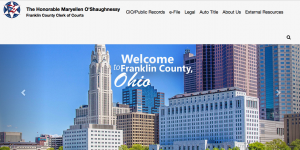 Franklin County has one clerk of courts and one website.
Felony, misdemeanor, civil case, probate, appeal- it's all in one place. You can file electronically for any and all of the above case types. Maybe it's why Franklin County has been growing and Montgomery County, well… we've got more websites than they do.
Each website costs money. Each website requires administrators, security, backup and maintenance as well as a support team, never mind the learning curve for every attorney in the area.
We've received some preliminary data from two of the courts, that both hired the same local company to build their sites- at an initial price of between $100K and $150K. They pay $100 a month for their server and another $30K a year for the site. We'll be posting contracts and invoices soon. None of the sites allow electronic filing.
If we extrapolate that to the 6 sites: that's three quarters of a million to set up, $7,200 a year for servers, and  $180,000 a year for the software. Never mind the staffs at each court, the clerks, the office hours, overhead. This isn't including the cost of the county clerk of courts common pleas site- which does allow efiling.
Doing background checks takes longer, costs more and has a higher chance that someone will miss something.
There is no justifiable reason for this mess. With your support, Reconstructing Dayton is doing an analysis of each courts systems, costs, and value proposition
Just because Lady Justice is blindfolded, it doesn't mean she should be blind to the costs of carrying all these extra courts on our backs.
We'll be updating this post with each of the municipal courts and the data that goes with them soon.
Dayton Municipal Court
The Dayton Municipal Court is a limited jurisdiction court of record whose judicial function is to apply the law to specific controversies brought before it and to resolve disputes between people and other legal entities. The court operates under the rule of law to assure that the protections of law are available to all people.
Source: Dayton Municipal Court
Kettering Municipal Court
The Kettering Municipal Court provides justice services for the communities of Centerville, Kettering, Moraine and Washington Township.

Our Court handles misdemeanor traffic and criminal cases, as well as civil complaints up to $15,000 and small claims complaints up to $6,000. Preliminary hearings for felony cases are also conducted here.

This web site, provided by the Clerk of Court's Office, gives you access to search the public record and court schedule, along with general information to help you navigate our court system.
Source: Kettering Municipal Court – Thank you for using our online web resources.
Kettering Municipal Courts uses a case management system called Civica CMI. Displayed at right is the invoice that includes the annual license, support and maintenance fees. All of which come to a total of $31,245.05, as of 2018.
Miamisburg Municipal Court
The Miamisburg Municipal Court is located in southwestern Montgomery County, and serves approximately 80,000 citizens. Miamisburg Municipal Court's jurisdiction includes the cities of Miamisburg, Germantown, and West Carrollton, along with Miami and German Township. The judge of The Miamisburg Municipal Court is an elected official, and is the single administrative judge. The magistrate, clerk of court, chief bailiff, and other court staff are appointed by the judge and serve at his will.
Source: About Miamisburg Municipal Court
Similar to Kettering's Municipality, Miamisburg Municipal Court uses the vendor case management system, Civica CMI. As of 2018, they pay an annual fee of $28,204.49.
Montgomery County Municipal Court
The Clerk of Courts office, as the "core of the Court," plays a vital role in serving the interests of justice. This includes filing, docketing, indexing, and preserving all court pleadings for civil, felony criminal, domestic relations, and appellate cases.

The Clerk of Courts must also follow procedure required by law and issue writs to carry out Court orders. Some of these writs include summons, subpoenas, warrants to arrest and to convey to penal institutions, and signing the death warrant in capital cases.
Source: Montgomery County Clerk of Courts
Oakwood Municipal Court
Oakwood has its own Municipal Court which is part of the County and State court system. The court is run by two clerks, Linda K. Young and Gina Urban. Court hearings take place in the same chambers which serve City Council.

Municipal Court hears all misdemeanor cases, arraignments and traffic violations, as well as preliminary hearings on felony cases. The court also hears small claims and civil cases.
Source: Oakwood Municipal Court
Vandalia Municipal Court
Vandalia Municipal Court's jurisdiction serves approximately 83.5 square miles, which includes the Cities of Vandalia, Englewood, Clayton, Union and the Townships of Harrison and Butler, located in the County of Montgomery, Ohio. The Court is one of the busiest single judge courts in the State of Ohio.
Source: Vandalia Municipal Court
Vandalia Municipal Court uses a case management system called Henschen & Associates, Inc. This corporation charges an annual maintenance fee of $500.00, monthly backup fees of $1,800, a service charge of $200.00 and an annual update subscription of $1016.60 for a total of $23,316.60 in 2018.
So… why have different vendors, contracts, maintenance fees, etc when we can have one?
And to extrapolate one step further, the entire court system in the State of Wisconsin is unified. One site, one system, one login for attorneys, etc. Imagine how much easier this makes background checks, and equal and fair treatment and access to the courts. A model for the State of Ohio, you think?